1. To raise invoices for all contracts in each period click on Generate Contract Invoices.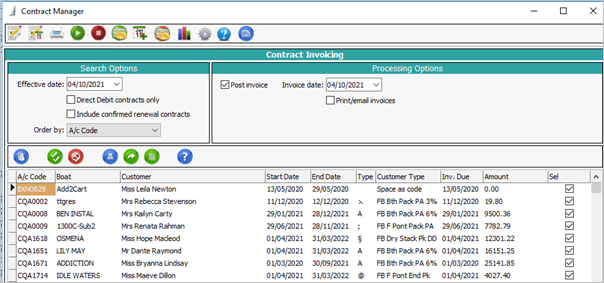 2. Select your Effective date. This looks at all contracts due to be invoiced in the month that is selected.
3. Select your invoice date.
4. Use the options to choose all or whether to include Renewal contracts that have been confirmed that fall within your selected date.
5. "Post Invoice" will post the invoice to the customer's account ready for Printing. If you untick this, the invoice line will remain as an uninvoiced line and is accessible from the Print New invoice Module or individually when you access the customers Raise Invoice screen. This is good if you wish to add to the invoice or include other items accrued on the account.
6. Ensure the Print/email invoices box is ticked otherwise they will not be printed or emailed to the customers.
7. Use the Select all, Deselect all and tick boxes to select the invoices you wish to generate.
8. Click the Blue Generate invoices for selected contracts button to generate the invoices.